Maryland Organic Since 1979 
At Nick's Organic Farm, our cattle, poultry and crops are raised on our certified organic farm in Maryland's fertile Frederick Valley.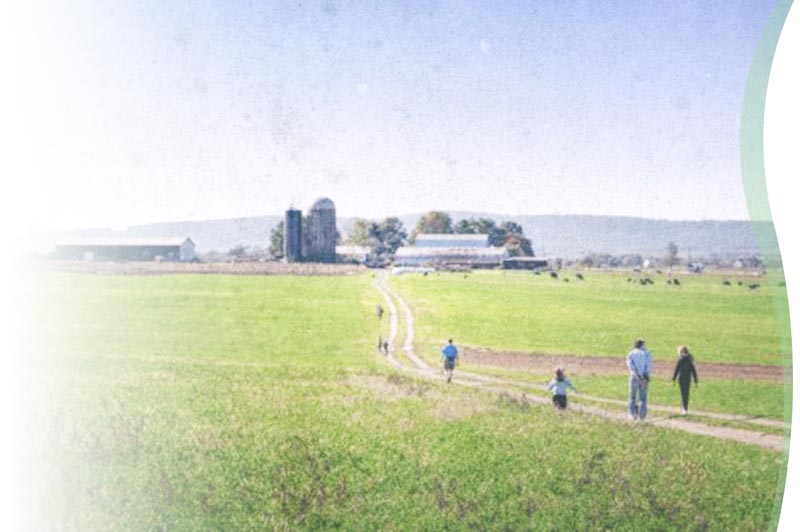 We are now taking names for our
2023 TURKEY Wait List
If you would like to be on our Turkey Wait List*, please click to reply with the following information:
Your name
Your cell number
Alternate phone number
Your email address
Your pick up location: Potomac or Buckeystown
Your turkey preferences:
Heritage $11.99/lb or White $6.50/lb or either type
Size Preference
Fresh or Frozen.
You can read about the differences between Heritage and White Turkeys HERE.
*Why Do We Have a Wait List?
Each year we reserve some turkeys and do not allocate them to customers during the ordering period.
This allows us to fill all confirmed orders in case we have miscounted how many birds we have in the pasture, or in case we lose birds to predators.
We usually do have extra (reserved) birds to allocate after the birds are harvested. Those birds go to wait list customers.
Sometimes customer's Thanksgiving plans change and they cancel their order – allowing us to call someone on the wait list.
How many people are on the wait list? A lot of people will be on the wait list. However, all of those people will continue to look for a turkey elsewhere. Many of the people on the wait list will no longer need one of our turkeys and often folks at the bottom of the list receive a turkey.
If you choose to join the wait list – and we have a turkey available for you – you will be notified on the Saturday or Sunday prior to Thanksgiving. You will be under no obligation to take the turkey if you no longer want or need it.
Turkeys will be available for pick up on Tuesday (11/21) and Wednesday (11/22) before Thanksgiving.
Click here for Turkey 2023 order form.
Chicken & Beef 2023 Order Form
Click here for Chicken and Beef Fall 2023 order form.
Organic Pastured Eggs Available
Contact us here to find out how to pick up eggs at our self-service locations in Potomac and Buckeystown.
"I  wanted to let you know, that was the best turkey my family and I have ever had. She was tender and delicious. I purchased a 20lb bird with more breast meat. Honestly I have never had a turkey that has fed breast meat to everyone. Our table did become smaller than what we initially were to have, 9 from 12, so we now have ample for another round today. Thank you once again for all that you do."
– M.V.
"Wow, was that turkey good to eat! Remarkable!"
– M.I.
"We really liked the Bourbon Red turkey we had for Thanksgiving!  It was flavorful, moist, and a hit with all our family.  It didn't stick around long.  In fact, with sandwiches the next day, the 16 lb. turkey was devoured.  Even my mom, who before this loved only the broad-breasted white turkeys, thought it tasted wonderful."
– Carolyn B
"I got some eggs last week when I picked up my feed, since my chickens seem to be hardly laying and was struck by the color of your eggs.  What kind of chickens are those?  The eggs are beautiful." 
– Mary R (NOF Note: Our hens were Rhode Island Reds and Golden Buffs.)
"The turkey we served this year from your farm was the most delicious Thanksgiving turkey we've ever had!"
– Gina M
"I am writing to let you know how much I appreciate your chicken and beef products. I have no doubt anymore that your chickens are superior to the grocery store. I have had several dinner parties and served your chickens. Every time my guests have remarked that the chicken tastes so fresh and delicious. One time, a friend asked me for my secret recipe because the chicken soup tasted so good. I told her thank you for the kind complement about my cooking but frankly, the credit goes to the farmer, Nick Maravell of Nick's Organic Farm in Potomac. I no longer buy grocery store chicken with it's off odor and taste. And your beef is absolutely delicious as well. The steaks, ground beef, sausages are excellent. I particularly love to make soup with your economically priced beef bones. My kids love the broth and frequently ask me to make beef bone soup. The soups turn out so rich and thick. I just add some beans and vegetables and I have a meal worthy of a king. Thank you for continuing to sell excellent farm-raised products."
"The turkey was great, and a big hit with our family, and what I really appreciate is the care Nick puts into raising his animals. It's a pleasure to visit the farm and see all this good work."
"Our Thanksgiving turkey from you was DELICIOUS!  Thanks for your good work!" 
"You have the best customer service. Thanks again!"
"We want to thank you and your Buckeystown farm staff for assisting us with obtaining one of your 2010 Thanksgiving turkeys.  Your staff has been most helpful."
"We grilled 2 of the porterhouse steaks we got from you for our New Year's Eve dinner tonight. Perfect !!!! They were absolutely delicious. I had briefly thought about going to Wegman's and getting filet mignon for us for tonight but we decided against it. I'm not sure the filet would have been any more flavorful anyway!! Thanks again !!!!"
"Our entire family could not believe how delicious the turkey turned out yesterday.  Even my in-laws who are skeptical of the whole pasture fed/organic movement were asking me if we could buy one more turkey from you.  In the past, we have had bad luck with large birds.  Yesterday's bird was 26.9 lbs, the largest bird our family has ever cooked, and it was the best bird we have ever had.  The dark meat was melting like butter and the white meat was tasty and moist.  Keep up the great work and whatever you did this year, please do it again for next.  We'll be back."
"The girls gave your feed five stars. They were eating and talking enthusiastically. Happy chickens. Thanks."
I got my turkey from you last year. My guests said it was the best they've ever eaten! You do a great job, thank you!
Since 1973, my family had gotten turkeys from Maple lawn farms, we always loved them until they sold the farm. I was really concerned about where I was going to get my Thanksgiving turkeys. I found you online and I'm not looking back, your turkeys are are really delicious and I really like that they are organic.
I'm thinking we should try your beef too!
– David M., October 2020